The No. 1 mobile game on Google Play Store PLAYERUNKNOWN'S BATTLEGROUNDS MOBILE (PUBG Mobile) brings major new developments with the new update 0.19.0 version that is now available for download. Check below:
PUBG Mobile Update 0.19.0
PUBG Mobile 0.19.0 update will be approximately 1.84 GB of storage space on Android devices and 2.13 GB of storage space on iOS devices. If you update the game between July 7th – July 13th (UTC +0) you will get:
2,888 BP
AG ×100
Nightmare Helmet (3 days)
Whats's New
Classic Mode Gameplay:
The new Livik Nordic-style map measures 2km × 2km, with 52 players and 15 minute match times, making for a faster and more exciting experience, it is still in its BETA stage.
Two Livik exclusive guns are also available a SMG: P90, and a Marksman rifle: Mk 12
In Livik you will also find a new vehicle: Monster Truck
Livik super firearm training (coming soon)
When the event starts, Experimental Trial Weapon Crates containing a special weapon will appear on Livik. Special weapons look similar to normal weapons, but there are differences in the names, icons, etc. Finishes can be used normally on both types.
Experimental Trial Weapons have slightly better stats than normal weapons. You can view your firing and hit stats with your Experimental Trial Weapon after leaving combat.
Spark the Flame-themed Gameplay
The themed mode will be available on Erangel and Miramar maps in Classic Mode. Players have a chance to enter this mode after selecting these maps.
Small Statue
Burns up after interaction. Drops supplies and event items after burning.
Giant Statue
Has multiple construction stages that change as the themed event progresses. It burns in the final stage.
Statue Camp
There are tents around the statue. Enter them to search for supplies.
The Ancient Secret (coming soon)
This themed mode takes effect on Erangel and Miramar when activated. Players can choose whether to participate via settings on the Mode Selection screen.
Ancient Temple
Large, major building with a two-story structure. It initially sits on the ground, but it starts to float in the air after a fixed period of time and moves slowly with the playzone.
Slate puzzle
An interactive puzzle made up of ancient slates.
Boss fight
Players who make it to the sealed room on the second floor of the Ancient Secret can challenge the boss of the temple and win great rewards.
Small Ruins
Small, randomly-appearing ruins with crates and puzzles.
Season Warm-up Event Gameplay
At the end of Season 13, a season warm-up event will be available for a limited time. After joining the event, players will battle in 4-player teams in Classic Mode (unranked) and can complete missions to earn a small amount of Season 14 ranking points, which will be converted into Season 14 season rating points after the update of Season 14.
Adjustment of Mode Availability Times
After the version update, Payload and RageGear Modes will only be available during the weekend, and Bluehole Mode will no longer be available.
Arena Gameplay:
New Arena Gameplay – Team Gun Game (Available on Friday, Saturday, and Sunday from July 31st)
4v4 match. The starting weapons are the same, but can be upgraded by defeating opponents. The winner is the first team to use the final weapon, the Pan, to defeat the opponents(or the team with the highest score when time runs out).
New Map – Library. The first-ever indoor map, with a symmetrical layout and three assault routes: left, right, and center. Take positions on platforms, in doorways, or behind bookshelves depending on your current weapon. This gives players with different styles a fighting chance.
New Arena Attachment
New Loadout attachment: Barrel Extender. This is a muzzle attachment that can be used with the vast majority of Sniper Rifles, Rifles, and SMGs. It increases the firearm's effective range and reduces the damage reduction of bullets due to distance.
Arena Firearm Damage Reduction Adjustment
The firearm damage reduction modelis now layered based on operational distance. The order of effective operational distances for firearms is (from near to far): Shotguns/SMGs/Rifles/Sniper Rifles.
Basic Combat:
Basic Experience
Resolved screen lockup issue at "Loading" when entering the battle on an unstable network.
Improved rendering smoothness on low and mid-performaning devices.
Improved battery usage time for some high-performance devices.
Further reduced the occurrence of lag when HDR is enabled on some devices.
Pick Up Improvements
Players can go to the Pick-Up tab in Settings to choose whether they pick up Quickdraw Mags or Extended Mags first.
Combat Operation Settings
Added on/off settings for Scope and Peek buttons to rotate the camera.
Prolonged Hit Effects
Provided more color schemes for Hit Effects and Received Damage effects to give players more options for customization.
Improvement of Parachuting Gauge Display
Improved the altitude and speed gauge displays during parachuting.
Jump Following
Added tips to remind the leader to mark the landing zone on the mini-map.
When picking up supplies, the item name is highlighted in the pick-up tips to emphasize the information.
Settings Improvements
Added a tutorial on sensitivities on the Sensitivity tab.
Added an information page about camera control rules on the Control Settings screen.
Added a switch for auto pick-up of scopes. When off, scopes will not be picked up automatically even standing near the scope supplies. When on, the original auto pick-up setting will be restored.
Some keys can be hidden or disabled in the custom control panel now.
Dynamic holding switch is available in FPP Mode. With the switch on, the firearm is held at a low height when not firing, thus increasing the field of view. With the switch off, the firearm will not be lowered and will appear the same as in Arena.
Improved the custom control panel display.
Adjusted the default pick-up amount for Frag Grenades and Smoke Grenades to 1.
Added an effect preview for energy boost items.
Backpack
When the Backpack is full and the player cannot pick up an item, the item's position in the pick-up list will not change.
Flare Gun
When the flare gun fails to fire, we will now display a tip that clearly notifies the player that a failure has occurred.
Cheer Park:
New Cheer Park and Quick Draw Features
Added a new trench in the Shooting Range area to prevent other players or vehicles from blocking targets.
Added new Cheer Park features: a launcher and hot air balloon in the Cheer Park, and a barrier zone next to the Shooting Range area so that Quick Draw players can choose freely which to use.
New Firearm-Specific Quick Draws
Added firearm-specific Quick Draws. For an Assault Rifle Quick Draw, both players get the same (randomly chosen) assault rifle, which is the only weapon that can be used to deal damage during the Quick Draw.
Quick Draw result screen adjustment: players can choose to join another match from the result screen and add friends or send gifts.
New Shooting Range Elite Challenge
Added Elite Challenge rounds after players get 100 points at the Shooting Range. This provides high-level players with a way to pursue extreme skills.
New Bubble Emotes
Added a bubble emote feature at Cheer Park: players can use vivid emotes to communicate.
Sound Improvements
Reduced the volume of gunshots in the Cheer Park.
System Features:
New Team-up Lobby Features
The Team-up Platform is an all-new feature to help you find suitable teammates quickly. Voice recruitment has also been provided according to the voice requirement.
Display directly the player's KDA, Top 10 %, tactical style, etc., as well as recruitment information like the team's strategy and objectives, etc.
Idle players can view the currently recruiting teams based on conditions such as the selected mode, language, etc. Supports quick joining, fine-grained filtering, manual refreshes, and more!
Recruit suitable teammates:
Recruitment that supports fine-grained requirements. Players focus on their team information page when creating or joining teams. Supports viewing and inviting currently idle players in the lobby.
Voice recruitment feature:
Voice recruitment teams are only visible to players who have selected voice recruitment. After sending out voice invitation, the recipient is invited to converse in real-time with the host. If both players are satisfied, they become teammates. Similarly, if a player selects voice recruitment, they must engage in real-time voice conversation with the leader before joining a team.
Royale Pass Season 14: Spark the Flame (available July 14)
All-new themes, better level rewards, and new multi-form outfits.
To celebrate the 2nd Anniversary of Royale Pass, the Roaring Dragon and Dragon Hunter-themed rewards from Season 5 will return.
A RP Prime subscription collaboration with Google is available. Includes both Prime and Prime Plus, which can be subscribed to simultaneously. Supports monthly, quarterly, and yearly subscription. Collect 300 or 900 RP Vouchers every month, along with redemption discounts and Airplane Ranking display perks (only available for Google at this time; available soon for other players).
Consolidated page for RP perks. Instantly view consecutive purchase perks and preview other exclusive RP perks.
Added an RP Crate Luck Event with amazing rewards.
There is a chance to display an RP-related message when returning to the lobby after a match.
Improved display of Airplane Ranking and other content in-battle.
Brothers in Arms Improvements
Improved the role switching feature; players only need to tap on different tabs to switch roles. Find a Veteran to rank up, or be a Veteran to earn rewards!
Added a training preparation phase that is used during the first meeting between Veterans and Rookies.
Added a penalty for leaving Spawn Island during Brothers in Arms to improve the battle experience.
Rookies and Veterans now have clear marks to make them more easily recognized during training and battle.
Improved the social experience for Rookies and Veterans. Rookies can now quick-add friends and send Space gifts.
Improved other details of the gaming experience. There is now support for the display of previous invite results and filtering for the same Drop Tactic.
New Ace Badge Features
The badge icon feature is available on the Profile and Mode selection screen, displaying the number of times that a player has reached the Ace tier. Tap the Ace Badge icon to view a record of each season in which an Ace Badge was obtained.
Clan Classification
Clan system classified by clan tags, investing in more growth objectives and rewards.
Added Clan tag feature to Clan system, which is targeted at gathering players with different playstyles and goals.
Different Clans are given different tags, and each Clan has Energy corresponding to that tag.
Expanded Clan Mission Objectives, including new personal weekly objectives and Clan weekly/seasonal objectives.
More rewards in Clan Mission Objectives and Rankings.
Improved Clan recommendation/joining system. Added a new filtering system to help you find players who play at similar times.
New Achievement Rankings
New Achievement Points Rankings. Players can compete on the Achievements Leaderboard at a global level.
New Achievements
Panology Professor: Kill 3/10/20/50 enemies with a Pan on the Library map in Arena.
Legend of the Fjord: Win 3/10/20/50 times in Livik.
Clan Elite: Complete the weekly personal Energy objective in a Clan for 1/5/10/30 week(s).
Download Improvements
Support downloading in game video resources. Video can be displayed only after download.
Added network speed display to download floating frame.
Upgraded firearm attachment finish features.
With this feature, after getting an upgraded gun, the player can use graffiti to unlock the corresponding attachment finish.
After unlocking an attachment finish, the corresponding finish will be displayed when the attachment is equipped in battle.
Guncraft Improvements
Added a cropping function for basic patterns.
Added a free swapping function for basic patterns.
When basic pattern materials are insufficient, UC can be used to make up the difference.
Stickers can be used on all Guncraft Firearms.
Improved the enlarging/shrinking of patterns for Stickers.
Improved the feeling of aim assist when rotating Stickers.
Performance improvement: increased smoothness while editing.
Interface improvement: Improved information display in the Guncraft system interface.
Resolved the problem of Guncraft camera in confusion in Training Grounds and Cheer Park.
Resolved the color aberration problem.
Voucher Improvements
Improved the visual effects of vouchers and added a notification to show the expiration in Inventory.
Players can jump to the latest Lucky Spin directly by using Lucky Spin vouchers.
To prevent players from missing the vouchers' validity period, a voucher expiry reminder has been added to the Shop entrance and display screen, as well as a new direct screen for vouchers in the Shop.
Radio Improvements
Improved the visual appearance of Radio messages.
Radio can be used to share gift messages when sending Space gifts.
Radio messages are now available in the Cheer Park.
PUBG Mobile Update 0.18.0
It is available to download now for Android (1.97GB) and for iOS (2.21GB) but the size of downloads may vary as per devices in my iPhone 7, i received the update of 2.4GB. Players on different versions won't be able to invite one another, so be sure to update as soon as possible.
Update before May 13th to receive:
1 Radio
2,888 BP
3 Lieutenant Parsec Backpack
What's New:
Updated Miramar with Sandstorm
Win94 with 2.7x Scope
Canted Sight Available
New Classic Mode Content: Jungle Adventure in Sanhok (Available Soon)
New Customizable Weapon System: Guncraft Finishes (Available Soon)
New Weapon: P90 in Arena Mode
Royale Pass Season 13: Toy Playground (Available May 13th)
Bluehole Mode: Brand New EvoGround Experience (Available Soon)
New Anti-Cheating Implementation: Points Protection Against Cheater Kills
Major Update: Mad Miramar
An Oasis has been added to the northern part of the map and Urban Ruins is now to the northwest. More housing areas, roads, and resources have been added so you'll need to pick your landing spot and battles wisely.
Added a race track that runs through the whole map and is perfect for motorheads. A racetrack has also been added which runs through whole map, prefect for motor heads.
New Miramar Map Vehicle: Golden Mirado. Only 1 will spawn on the map so be the first to claim it and show off your riches in the desert.
Miramar's New Vending Machine: Get Energy Drinks or Painkillers from Vending Machines scattered around the map. You might even be lucky enough to get 8 drinks at a time.
Sandstorm effects

There is a chance for areas in Miramar and the Main Menu to be ravaged by Sandstorms.

Miramar Main Menu Theme

Update and download the new Miramar map to get the Miramar Main Lobby and music.

Miramar Achievements

Added new Miramar achievements. Play the new Miramar map and complete multiple objectives to get these achievements.

Miramar Events

Complete the new events for great rewards.
EvoGround New Mode: Bluehole Mode
EvoGround – Bluehole Mode: Erangel will now have 2 zones, an outer and inner zone. The inner zone is the newest addition which will represent the next playzone location. Players will lose health while in this inner zone as long as the outer zone is present. Once the outer zone finishes shrinking to the inner circle, a new inner zone will appear.
All supplies spawn with a 50% increase over the Classic Mode Erangel map and players can revive downed teammates in 4 seconds.
New Classic Mode Content: Jungle Adventure (coming soon)
During the event, when searching for a match in Sanhok there is a random chance to enter the new Jungle Adventure Mode. This mode adds a variety of features and challenges not present in Sanhok.
Totem: Find ancient totems and invoke their power for a chance to receive a blessing or item.
Jungle Food: Fruit and other foods grow in the wild. Eating them may grant mysterious effects.
Hot Air Balloon: Control a Hot Air Balloon to survey the battlefield.
New Arena Content: New Weapon – P90
The P90 has been added to the Arena and it's a fearsome weapon in close quarters combat.
This weapon fires 9mm rounds and has a default magazine capacity of up to 50 shots. It has three different firing modes: single, burst, and full-auto.
The P90 can be equipped with all SMG Muzzle attachments, 1x-6x Scope, and the Laser Sight.
Classic Mode Improvements
Added Canted Sight
A new attachment, Canted Sight, will now spawn, and is compatible with most assault rifles, submachine guns, sniper rifles, light machine guns, and some shotguns.
The Canted Sight is a new attachment that can be equipped alongside other scopes and acts as a close-range scope.
Canted Sight settings can be adjusted in two ways:
Preferences can be set in the Settings and it supports adjustments to the customized interface.
Canted Sight Crosshair style and color can also be changed in the Settings.
Security Features – Point Protection Matches
In matches where players lose points due to being killed by cheaters and players using plug-ins, after the system confirms that your killer was cheating, the match will become a Point Protection Match. All points deducted in the match will be returned to players and a notice will be sent via in-game mail. Cheaters are usually found very quickly, but there may be some delay.
Classic Mode's Results Screen has been improved and a new "Detailed Results" screen has been added.
On the Detailed Results page, players can view the detailed data of each weapon they used in the game. They can check match statistics and compare their stats with others in the same tier.
Added 5 grading criteria in the Results Screen to change the rating system and rating display.
Added new titles and filters in the Results Screen.
Settings Improvements
Added an FPP and TPP custom configuration copy function.
Sensitivity settings are now stored in the cloud. You won't need to reconfigure your settings again after updates.
Enable and disable Auto Equip Scope function. Disable it to turn the Auto Equip option off.
Death Replay Improvements
Improved the death replay to reduce resource usage. The death replay can now be played from all devices and will be smoother than before.
Improved the death replay reminder to emphasize that the death replay may lag or have some display issues to ensure performance.
Weapon and Attachment Improvements
The Win94 now comes with its own 2.7x Scope, and only spawns in Miramar.
Loading the S1897 while aiming down sights will not remove your view from the iron sights.
Improvements to bullet marks: Players can now guess which direction bullets have been shot from based on the shape of the bullet holes.
Added a trajectory path to Crossbow bolts, making it easier to judge the flight path of each shot.
Light Grip improvements: The new effect is: "Significantly increases the stability when firing and the speed of recoil recovery."
Improved the stability of the sight animation when moving with the Sight activated.
Flare Gun improvements: When holding the Flare Gun or opening your Backpack, players will see the type of supply that will be summoned by the Flare Gun (vehicle or airdrop).
Firearm Balancing
Significant Shotgun Adjustments (Including S1897, S686, S12K, Sawed-off, and DBS).
The Shotgun spread has been remodeled so that bullets are spread more evenly around the crosshair for more consistent damage.
The spread range of Shotguns has been slightly reduced to increase accuracy in mid- and close-range encounters.
Significantly dropped Shotguns damage at long distances. The minimum damage of each bullet is 4 at maximum effective range (3 for Sawed-off).
Muzzle climb has been increased for Shotguns (no change to recoil).
The max effective range of Shotguns has been changed to 80 meters (except the DBS which has a max effective range of 100 meters).
S1897's rack speed has been increased by 20%.
Sawed-off now shoots 9 pellets with each shot (increased from 8) and each pellet deals 20 damage (decreased from 22).
Slightly adjusted the Shotgun's damage: Damage per bullet has been decreased from 1.5 to 1.2 for headshots and 1.0 to 0.9 for body shots.
Slightly enhanced the vertical spread of Duckbills.
Classic Mode Combat Improvements
Pressing the attack button while using drugs will interrupt the action, and cancel the effect of the drug, to maintain the continuity of battle.
Improved bloodstain effects displayed when health is decreased due to being attacked.
The screen will now shake when being attacked by other players in close combat.
The screen now shakes when characters fight in close quarters.
Throwable Crosshair Improvements: Highlights the upper/lower part of the crosshair according to High/Low Toss state so that they can be distinguished clearly.
Added an unequip function to Quick Scope Switch: This function can be used in battle to unequip a Scope quickly. Tap the Scope that is currently equipped to unequip it.
When the Backpack is full or almost full, players will still automatically pick up recommended weapons, attachments and armor on the ground.
Improved the battle chat log so that the latest chat information is displayed by default.
Improved the shape and transparency of enemy location markers.
Tap expired chat marks in the chat log to display them again.
Synchronized the combat status of teammates, so that the teammate status in the upper left corner of the combat UI indicates whether a teammate is engaged in combat or not.
Improved the Health bar so that it is more obvious when a player has low Health.
Improved voice messaging in battle. Pressing and holding "Voice" will now play new sound effects.
Added display of damage statistics to the death replay.
Improved the teammate location marker feature for teammates outside the Mini-map to minimize UI interference.
Added headlight effects to vehicles that are being driven.
Drop Tactic Options
Drop Tactics can be chosen in Matchmaking Settings when selecting the mode.
After a Drop Tactic has been enabled, players who have chosen the same Drop Tactic will be placed in the same team if possible.
There are currently two options: Hot Drop and Slow and Steady.
K/D Statistic Improvements
Starting from Season 13, the K/D data in player information will be changed to Average K/D per match.
Improvements for Low-Performance Devices
Users of low-performance devices will experience smoother battles and lower battery consumption.
Bug Fixes
Fixed a bug which sometimes caused players to fall to their death when jumping off of a moving Pickup.
Fixed a bug which caused some vehicles to drift significantly on the ground.
Fixed a bug where the button sound was misconfigured or went missing in the current screen.
Fixed a bug which caused lagging in battle when HDR +60 fps was enabled in some high-performance devices.
Fixed a bug which caused lagging when other players entered a player's field of vision.
Fixed a bug which caused some screens to lag.
Fixed a bug that caused resolution display errors when switching between the large and small screen display of the Samsung foldable screen.
New System Contents and Improvements
Cheer Park is a social area that can accommodate 20 players at any time. It has most of the basic Training Ground features, and lets players interact with other players in real-time:
Players can view the information of other players, chat, interact with Emotes, and add friends.
Players can team up with other players and play matches in various modes.
Players can invite their friends to interact and roast chicken together in Cheer Park.
Players can also engage in various activities while in Cheer Park:
Duel: Players can have 1v1 duels with other players.
Hunt Game: The Hunt Game that was featured in the anniversary celebrations is also available in Cheer Park. Give it a try!
The Shooting Range is a way to show off your shooting skills and compete against the other players in the Cheer Park. You can also share your results in chats.
Royale Pass Season 13: Toy Playground (available on May 13th)
The Cartoon Rangers are waiting for you in this toy-themed Royale Pass: Choose either Ice Ranger or Fire Ranger at Rank 50 and get the Ultra Defender Set at Rank 100 to have the time of your life. The Puppet Agent outfit has three forms that you can mix and match; reach the highest rank to upgrade the outfit to mythic rarity!
Complete Toy Mastery of the Puppet Agent series to unlock cool upgrades for the outfit. Create a squad and progress in special missions together with friends to complete them quicker.
The RP mission reminders on the result page have been redesigned to make it easier for players to see their mission progress.
Reminders have also been added at the beginning and the end of the season.RP push notifications and tutorial guides have been improved. Known bug fixes have also been introduced.
Guncraft Finishes (start crafting soon!)
Obtain weapons to customize the color, patterns, and emblems of the finishes.
Players can edit emblems by overlapping basic images to create the Emblem they like.
Weapon finish materials can be obtained from the wheel, but some materials can also be purchased directly.
Graffiti can also be exchanged for stickers that can be applied to weapons as a finish.
Brothers in Arms Improvements
Brothers in Arms improvements: players can enter the Brothers in Arms screen from Lobby.
Improvements to the Brothers in Arms UI for Veterans and Rookies: secondary information has been minimized to focus on training related operations.
Revision of matching rules: Veterans can choose Duo and Squad modes at the same time to find a match.
Brothers in Arms Battle Improvements: Rookies will follow Veterans automatically when jumping so players can't jump solo.
Improved support for Brothers in Arms: added Brothers in Arms missions to daily missions and RP missions.
New Achievements
Miramar 2.0 Achievements: players will find more objectives to complete in Miramar 2.0.
Added Bluehole Mode achievements: Win matches in Bluehole Mode to complete.
Added Cheer Park achievements: Invite friends to Cheer Park and try the Shooting Range.
Added new Brothers in Arms Achievements: Play Brothers in Arms matches to complete.
Added new Radio achievements: Send messages with the Radio to complete.
Added new Dependable V achievement: Log in to the game and collect more days to complete.
Unlinking Accounts
When 2 social network accounts have been linked, one of the social accounts can be unlinked; however, for account security reasons, players cannot unlink an account within 30 days of unlinking an account.
Improvements to "Play Another Match"
Reduced the total "Play Another Match" countdown timer.
Interaction methods have been improved.
Team Invite Improvements
Up to 3 invites can be viewed at once.
Improved invitation frame interactions.
Requests can be approved by the recipient instead of just the creator of the room.
LIKE Feature Improvements
The number of LIKEs received in the last 20 matches will be displayed on the team-up page.
Added "Number of LIKEs received in the last 20 matches" to the LIKE Rankings.
Added records of gifts and LIKEs sent by teammates to the results screen.
New Currency
Added a new currency called AG (AceGold). After the update, all Silver rewards will be replaced with AG in events (this will not be implemented for events that started before the update).
The price of most items purchasable with UC in the Shop will be changed to an AG price. When a player doesn't have enough AG, UC can be used to make up for the difference.
Royale Pass UC rewards will now have two options. Players will be able to choose either a 30 UC or 400 AG (equivalent to 40 UC) reward at the corresponding rank.
Improved the 30 UC Crate: adjusted the items from the crate and changed the default draw price to 300 AG. UC can be used to make up the difference when the player doesn't have enough AG. Previous Supply Crate Coupons can still be used.
Downloads
The Resource Expansion Pack has been divided into 3 packs for a better download experience.
After the modes and the dependent maps are separated, the total size of the required download will be displayed on all the related interfaces synchronously.
Season Recap
When the new season starts on May 13th, Season 12 statistics will also be updated at the same time.
Character Creation
Newly created characters will have clothes equipped by default.
PUBG Mobile Update 0.17.0
It is available to download now for Android (1.69GB) and for iOS (1.95GB) but the size of downloads may vary as per devices in my iPhone 7 I got the update of 2.4GB.
Update Rewards
Update before March 6th
50 Silver
2,888 BP
3 Day Anniversary Pan Skin
What's New
Erangel – Amusement Park Mode (available from March 12th)
Players have a chance to enter Amusement Park Mode during Erangel matchmaking in Classic Mode, which includes:
Amusement Parks: In this mode, old school amusement parks will appear randomly in three locations on the Classic Erangel map.
Arcade Machines: Interactive Arcade Machines will be placed in the amusement parks and major towns, which can be activated with Tokens.
Classic Guns
Games and Attractions: Hunt Game, Space War, What's in the Box, Shooting Range, Trampoline and Reverse Bungee.
Reverse Bungee + Wingsuit: High-rise Reverse Bungee machines will appear in the middle of the amusement parks. Players can be launched into the air to use their parachute and glide again.
New AirDrop Weapon: DBS Shotgun
DBS, a double-barreled shotgun that can only be obtained through AirDrops.
The DBS has an internal magazine that holds 14 rounds of 12 Gauge ammo that can fire 2 shots each rack.
The DBS will need to be racked from the magazine after 2 shots, which is faster compared to previous shotguns' reloading speeds.
The DBS can be outfitted with the Holographic Sight, Red Dot Sight, and 2x – 6x Scope.
Independent Teammate Volume Control
Now supports adjusting the voice volume of a single teammate in battle. Players can adjust volume according to their teammates' voices.
Universal Mark
Added Universal Marks, which allow players to mark locations, supplies, vehicles, death crates and doors. When marking, the corresponding marks are displayed according to the different objects. Players can mark and respond to teammates' marks for quick communication. Preferred settings can be configured in Settings.
Death Replay
Added Death Replay, which allows players to watch how they were eliminated. Players can watch from the attacker's perspective for a certain time prior to their deaths.
Colorblind Mode
Added Colorblind Mode in Graphics Settings, which provides more color options for in-game indicators, such as Poison, Smoke, and Auxiliary Lines.
New Arcade Mode Content:
Return of Hardcore Mode
Hardcore Mode can be selected in the Arcade Mode selection screen. In this mode, there are no sound prompts, manual actions are required like pick-up and opening/closing doors. All to give players a more realistic shooting and survival experience.
New EvoGround Content:
Added Arctic Mode (coming soon)
Based on Classic Mode gameplay, arctic storms appear periodically in Vikendi. Players need to maintain their body temperature through various means, otherwise their health will continuously decrease when their body temperature is low.
Ways to maintain body temperature:
Use a lighter to light a fire indoors and gather branches to add to the fire to increase heating time.
Hunt chickens to acquire raw chicken and roast it on the fire, then consume the roast chicken to restore body temperature.
Use items such as the heater or heat packs.
Other Contents:
Snowboards from the Winter Festival will also appear in this mode for players to enjoy snowboarding.
Added Drones that can scout the surrounding area, leading to new tactics.
EvoGround Gameplay Adjustments
Survive Till Dawn and RageGear – PickUp will be removed for further tuning after the update. Please keep an eye on the update notes for future release dates.
Team Deathmatch – Camera Improvements
Improved the camera shaking and position adjustment in some situations in Team Deathmatch FPP mode to increase realism.
Royale Pass Season 12: 2gether We Play (available from March 9th)
Celebrate the 2nd anniversary of PUBG MOBILE with Royale Pass reward upgrades. Choose one ultimate set out of two. Anniversary theme items are returning to the Shop. Don't miss out!
Improved the Purchase and Upgrade interface display and added support for Exclusive Vouchers (available from events).
Players who did not purchase a Royale Pass during the past 3 seasons (9, 10 and 11) and players who registered from season 10 but have not purchased a Royale Pass before will receive bonus benefits when they purchase this season.
System Features: Brothers in Arms Function
Through Brothers in Arms, veterans with rich game experience will guide and play together with rookies in the game. Rookies can learn from the veterans and master the game quickly, while the veterans can receive great rewards.
Players can enter the Brothers in Arms system and register as a Rookie or Veteran. Rookies send invitations to recommended Veterans, and Veterans who have enabled the Rookie Matching status will receive the invitation. The two will enter the battle after matching, which supports Classic mode rating calculations.
Anniversary Celebration (available from March 12th):
Anniversary Celebration Event
During the Anniversary Celebration, all players on the server work together to achieve the event goals and receive rewards.
Individual Events allow players to claim rewards after completing the corresponding missions.
Event rankings that grant players various rewards corresponding to their points ranking.
Anniversary Celebration Achievements
The Anniversary Cake collection achievement returns
2nd Anniversary new mini-game achievement
Anniversary login exclusive achievement
Classic Mode Improvements:
Firearm Balancing
Slightly increased rifle burst mode rate of fire.
M16A4 balance adjustment: Slightly increased burst mode rate of fire and increased vertical and horizontal recoil.
Increased Mk47's single-shot damage from 46 to 48
Classic Mode – Other Improvements
Upgraded Dacia and UAZ models
Modified the UZI model: added an upper guide for equipping the Red Dot and Holographic Sight
Improved skydiving animation details, added parachute descending and disappearing effects when landing, and improved the character landing animation
Control Settings – Custom Layout Improvements: Increased maximum button size adjustability to 250%
Control Settings – New Custom Setting Feature: The left Fire button can be moved off of the edge of the screen as long as the center point of the button is on the screen
Improved the Molotov Cocktail flame particle effect
Improved the Frag Grenade blast effect on different surface materials
Added player standby emotes on all maps in Classic Mode, for example, Shivering emote in Vikendi. The standby emote is only visible to the player and their teammates in battle.
Added a second confirmation to the Reset button in Custom Settings to prevent players from resetting the layout by mistake.
Removed the unnecessary virtual sound settings for vehicles. Fixed issues of Dacia idle volume being too low, Motorcycle idle volume being too high and Rony idle volume being too high.
Basic Improvements
Feature Improvements
Improved Bluetooth headphone latency on some Android models
Improved Performance
Improved vegetation and combat rendering efficiency for smoother gaming and lower power consumption
Improved low-level logic and UI efficiency on some Android models for lower power consumption at the same frame rate
Increased the combat frame rate of some low-end devices for a smoother gaming experience
Further improved the power consumption of some mid to high-end devices
Improved the frame length issue on some Android devices for smoother operating experience.
Effect Upgrade
Added support for streamers, plush, neon streamers, and better UI and fabric effects.
Other Improvements
Added Team Reservation
Players with 50 or higher Synergy can send Team Reservation messages to friends in the game.
Players in the game can receive friends' Team Reservation messages and choose to accept or decline.
When the reserved player returns to the Lobby, the system will send a notification to the two to team up.
Popularity Improvements
Added high-value gift "Airplane" with additional playback effect in player Spaces.
Added Message. Players can attach a message when sending Sports Cars or Airplanes, and the player who receives the message can perform Pin, Reply, Delete and other actions (Also added Block Message to Blacklist).
Added a Send Popularity Gifts function to the battle results interface of Teammate Spectating, EvoGround, and Team Deathmatch modes.
Synergy Feature Improvements
Improve Synergy through teaming up with or gifting coins among friends.
Some space gifts can also help improve Synergy upon sending to friends, which has no daily Intimacy increase limit.
Adjusted the proportion of Synergy increasing when sending gifts in Shop.
Fixed the issue of losing Connection application in some situations.
Radio Feature
Added chat item "Radio." Players can use Radio to post Radio messages with an exclusive effect on the World channel
Players can receive Radio messages in the main menu or in the World 2channel, or choose to block the Radio channel in Settings
Crew Challenge Upgrade
Player and crew verifications are required for players participating in Crew Challenge. Players in a crew need to link social platforms or complete in-game missions to increase their and their crew's verification points. Only crews that meet the corresponding verification requirements can advance to each phase of the Crew Challenge.
A fair and exciting game requires a safe environment. For Group and Finals phases, a security test is required before the game begins.
Bonus Challenge – Tournaments
Experience the thrill of advancement: Daily Match -> Weekly Match -> Monthly Match competitions! Monthly match champions will advance to the online finals and compete for the opportunity to enter the offline finals or to watch the global finals at the venue and see well-known players in action!
Open daily to all: Six major divisions with matches every day
Esports Center
Added a landing page for players to find interesting content easily
Added Influencer & Crew options to the Video Center for players to follow their favorites, watch videos related to them, and send messages to them
Other Improvements: Increased loading speed for smoother experience.
Added Grenade kill broadcast
Added legendary Golden Grenade Finish with Death Broadcast
Inventory Improvements
Added Close-Up View: The game will automatically switch to close-up view when players are trying on helmets, hats, glasses, masks, and backpacks
Rookie Mission
Improved the 7 Day Rookie Missions tutorials and rewards
Tutorial Improvements
Removed the Graphics Quality Selection prompt in the tutorial.
Changed the Tutorial options from three to two, and game type proficiency options from Shooting Game to Battle Royale Game
Download Improvements
Improved download status: When a download task is in the waiting queue, players can tap the task again to cancel the wait and restore the status to downloading.
Reset Resources Pack and Map Expansion Pack rewards, which can be collected after downloading.
PUBG Mobile Update 0.16.5
PUBG MOBILE 0.16.5 Update is available from January 9th with no downtime. This update requires approximately 0.14 GB of storage space on Android and 0.17 GB on iOS.
Update to the new version between January 9th and 15th to get:
20 Silver, 2,000 BP, and 1 Blue Glider Trail
What's New:
Classic mode – New Vehicle: Light Snowmobile
A Light Snowmobile has been added. This vehicle only spawns in Vikendi and is the perfect ride for two. It is faster and moves more efficiently than the Snowmobile, but is also more easily damaged. The 2-seater motorcycle will no longer spawn in Vikendi after the Snowbike is added to the map.
Classic mode – Season Recap:
After the new season starts, players will be able to view their statistics from the previous season in the Season Recap page. Players will be given a title that matches their play style and a grade based on all their data from Classic mode.
They will be able to see their highlights and their teammates from the previous season. They can also generate an exclusive page with a bust-up portrait of themselves that can be shared with their friends!
Arena – New Domination map: Town
An expansive, realistic map with abundant terrain that gives players an immersive experience!
Domination mode splits players into 2 teams of 4. The map has 3 bases, and the first team to capture 2 bases wins. One random base will be activated soon after the match begins, and the next base will be activated after the first base is captured.
Super Weapon Crates can be activated in Domination mode for a massive boost (only available in Domination: Town).
Arena – Arena Training Map Returns: Warehouse
The original version of the Warehouse map has been restored and converted into the Arena Training map for players to practice their shooting skills.
In the Arena Training map, players can pick up and use any weapon from the ground instead of using the weapons in their loadouts. Players will still use the weapons in their loadouts in other Arena maps.
The other rules of the Arena Training map will still apply and Evo EXP will be given out after the results are tallied.
Arena – Firearm balancing:
Adjusted Groza's single-shot damage in Team Arena from 48 to 45. Other modes will not be affected.
Royale Pass Season 11: Operation Tomorrow
More missions, more new rewards, and more high-quality futuristic outfits to wow everyone!
Added multi-option missions that support more mission objectives in Team Arena or Payload mode, etc. Complete the objectives in any mode to collect the rewards for this mission.
Improved the mission guide and display. The lobby mission guide system now supports RP missions. Weekly missions can also be grouped together and displayed by type to make it easier to track the mission progress.
Improved the rank reward display. Preview will now show the item equipped on a character, and some items will be shown while zoomed in.
Security
Users who have had their accounts banned can go to the Security Zone from the popup that is displayed when they are prohibited from entering the game to find out why their accounts were banned.
Map download
Improved the status of the download button for updates in map/mode pages.
PUBG Mobile Update 0.16.0
The new Update for 0.16.0 will be available starting December 11th; the server will not be taken offline for this update. This update requires approximately 1.57 GB of storage space on Android and 1.97 GB on iOS for users who have installed the older version.
Older version users have to download approximately 673 MB of storage space.
Update Rewards:
Update before Dec.17th
50 Silver
2,888 BP
3 Day Winter Dress
What's New:
New EvoGround mode – RageGear:
Players will be divided into two teams and randomly assigned as the driver or shooters
Destroy enemy vehicles to win
Each vehicle is installed with powerful weapons, including the mounted Gatling, mounted Shotgun, and mounted RPG.
The driver also gets to fire weapons while driving the vehicle.
Get RageGear-exclusive items for a distinctive tactical effect.
RageGear -TDM mode: Destroy an enemy vehicle for 1 point. The team that achieves the target score first wins.
Pick Up mode: The team that collects the required number of Point Crates first wins. Point Crates collected are lost once the vehicle is destroyed.
Classic Mode – Snow Paradise:
Players have a chance to enter Snow Paradise when queuing for Erangel in Classic mode
Once players enter the match, they will be able to take cable cars on snow mountains and play freestyle snowboarding.
EvoGround – Loadout:
Added a Loadout feature. Players can now enter the Armory system from the Team Deathmatch Selection screen and access the Inventory screen to edit the weapon and items they bring into the match. Loadouts can be switched freely when entering Team Deathmatch and when respawning.
The variety of weapons that you can use in the loadout increases along with your Evo Level. Each firearm has its own mastery level, which players can raise to unlock more attachments.
The firearms, ammo and other resources that are generated at the spawn point in the Team Deathmatch map will be removed. By default, all firearms that are dropped when an enemy is killed in Team Deathmatch will have all attachments.
TPP Update:
A button to switch to FPP has been added to TPP in Classic, Arcade and Training grounds.
Tap the button to switch to FPP even while inside a TPP match.
The button can be moved and even be disabled in settings.
Classic mode – Healing while moving:
Medical items that players can use while moving include Med Kits, Painkillers, Energy Drinks, Bandages, First Aid Kits, Adrenaline Syringes and some consumables from other modes.
Movement speed will be reduced while using consumables.
Classic mode – Healing continuously:
Bandages can be used continuously automatically to restore health.
Backpack Ornament:
The same ornament is used for Level 1, 2 and 3 backpacks of the same type. –
Ornaments sway naturally after they are hung on a backpack.
Spectator tier restrictions:
Low-tier players will no longer be able to spectate high-tier players
Prevent cheaters from benefiting illegally from this feature.
Friendly fire kill restrictions:
Players can choose to prevent the teammate who knocks them out or kills them, from picking up their items in Death Crates.
Report a teammate for the friendly fire to stop the responsible teammate from performing further actions during the current match.
Slide settings:
Added a sliding setting feature.
The sliding feature can be enabled/disabled in Settings.
Once it is disabled, sliding will not be triggered in Team Deathmatch the actions of Classic mode will be maintained.
Theme Gallery:
The Gallery will display resources from the last 2 seasons to make it easier for players to collect and search for things.
Players will receive a reward once they collect all items in the Theme Gallery.
Playing again after the match is done:
After solo players complete a match, they can invite their teammates to play another game.
Those who accept the invitation will return to the Lobby automatically and team up with the player.
Adding friends after the match is done:
After completing a match, players can tap and use the Invite Friend feature under their own Avatar on the results page.
When the invite friend feature is used, teammates will see the invitations sent by players.
Teammates can directly add players as a friend without waiting for the player to verify it again.
Auto-Buffering features:
Enable the auto-buffering feature in Settings to automatically detect the combat frame rate.
If the frame rate is too low, it will help players lower the graphics quality of the match for smooth combat experience.
Rooms:
Added RageGear mode to rooms.
Pack download reward:
Added a map download reward guide. Download to collect the corresponding rewards.
Achievements:
Added achievements related to the reporting of plug-ins and RageGear.
Other Improvements:
Classic mode – Firearm balancing:
Bolt action sniper rifles: Damage to the torso increased by 30%, from 1.0 to 1.3.
AWM: Bullet damage lowered slightly from 132 to 120.
SMG: Damage to the torso increased by 5% and damage to the limbs increased by 5%.
Crossbow: Damage to the torso increased by 40%, from 1.0 to 1.4, and damage to the limbs increased by 20% from 1.0 to 1.2.
S12K: Damage of each bullet increased from 22 to 24.
Sawed-off shotgun: Damage of each shot fired increased from 20 to 22.
S686/S1897: Damage of each bullet increased from 24 to 26.
Shotguns: The maximum traveling distance of shots decreased from 1,000m to 150m.
Duckbill: Changed "increased the horizontal spread of shotgun bullets and reduced vertical spread" to "increased the vertical spread of shotgun bullets and reduced horizontal spread".
Improvements to the BRDM-2:
When players are already in the vehicle, only teammates can get in.
Players from other teams cannot get in.
Leaning improvements:
Improved the angle when leaning to the left to give players a better vantage point.
Performance improvements:
Further reduced lag in Team Deathmatch.
Improved the rendering resource usage for high-spec models in TDM.
Reduced resource usage for some high-spec models.
Improved the basic frame rate of some low-spec models to increase smoothness.
Further reduced the resource usage of various models in battle.
Smoothness when rotating the camera, opening scope and moving through the map has been improved.
Reduced the loading time required for some Android devices to enter the battle.
Actions:
Optimized the switching between different actions to make actions look smoother and more natural when switching between them quickly.
Settings:
Customizable settings of Team Deathmatch are now separate from Infection mode settings.
Players can set different UIs for Classic mode, Team Deathmatch, and Infection.
Improved outfit selection to select the gender before the facial shape, hair color, and other parameters.
Higher quality items shared are now highlighted.
Optimized the Lab to reduce lag.
Bug Fixes: Scene Bugs:
Fixed a bug where the two sides of a building window in Miramar were inconsistent.
Fixed a bug in Miramar which could cause players to become stuck in a confined space.
Fixed a bug in Vikendi which caused players become stuck in stones.
PUBG Mobile Update 0.15.5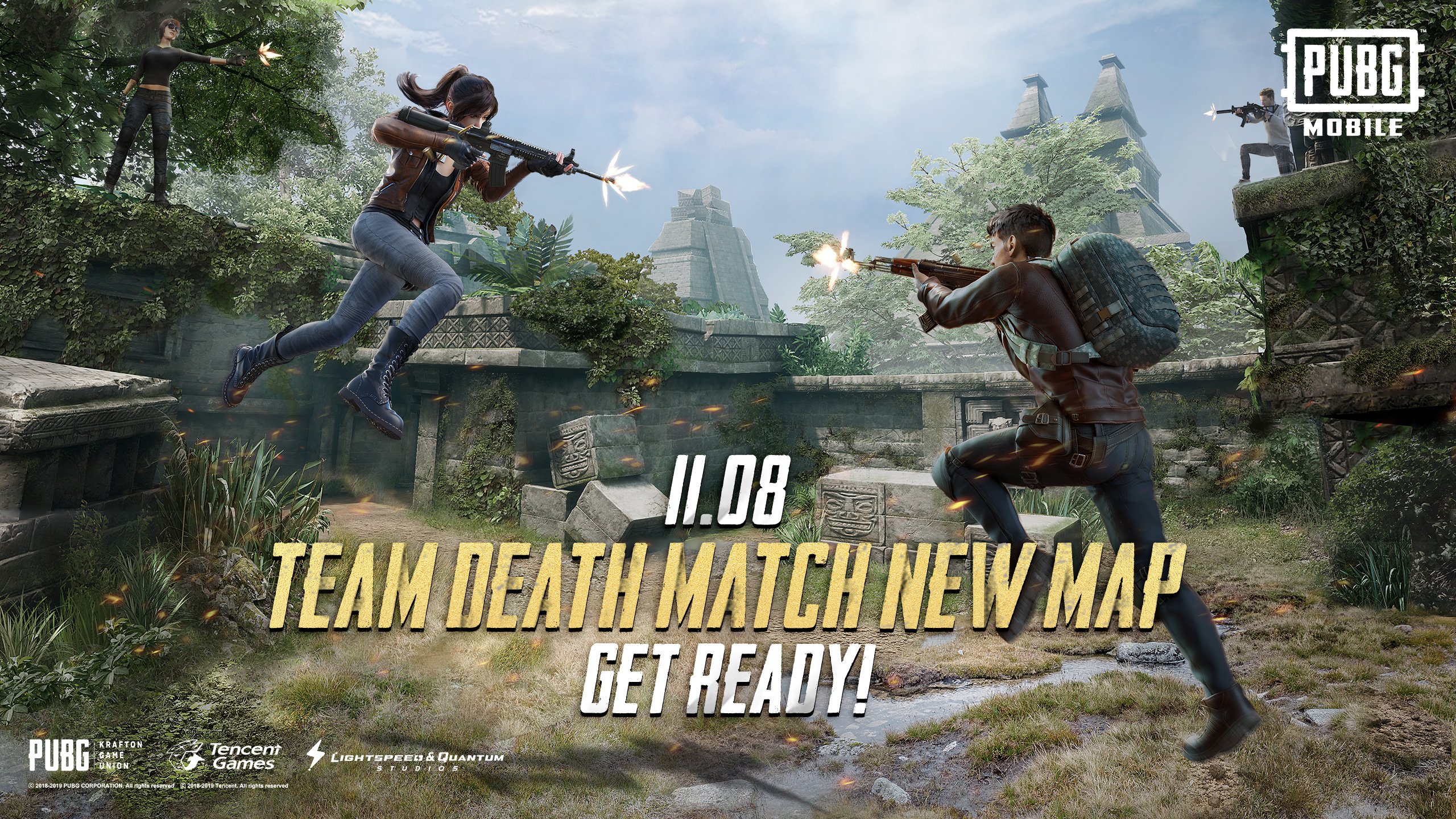 New 0.15.5 update is an in-app update of 233MB in iOS and 210MB in Android but download size may vary as per devices.
What's New:
Royale Pass Season 10: Fury of the Wasteland
All new rewards
Requests have been relaunched and Royale Pass can now be gifted.
The Royale Pass Upgrade Card can now be used directly in the Pass Upgrade page.
Improved UI for Royale Pass
New Team Deathmatch map: Ruins
A new TDM-exclusive map, "Ruins", is live now: Mysterious ancient ruins hidden in a rainforest. With dense vegetation and winding paths, it's up to the players to go head-to-head with enemies, or work together to set up a stronghold!
New weapon MP5K:
The MP5K is a portable SMG that only appears in Vikendi, replacing the Vector, it has a high rate of fire at 900 RPM and has outstanding anti-recoil capabilities. The MP5K has a base damage of 33 and can be equipped with all attachments (Tactical Stock, Mags, Attachments, Scopes, Foregrips, and Laser Sights).
New vehicle Zima:
Zima replaces the UAZ in Vikendi (Vikendi exclusive).
Although it is more challenging to operate the Zima in snowy terrain, it is easier to drive than other 4-wheeled vehicles, making it more practical.
The Zima is slower than other vehicles but more resistant to damage and can be used for alternate strategies.
Season System: Added Tier Protection Card rewards to the Platinum and Crown tiers. After reaching the Ace tier, players can earn one star for every 100 points they gain. The icon changes with the number of stars:
Copper: 1-5 stars
Silver: 6-10 stars
Gold: 11 stars or more
New Player 8-Day Rewards: Updated 8-Day rewards for new players to add Finishes, Trails, Classic Crate Vouchers, and other rewards.
Companion System (Coming Soon): the Falcon.
Coming soon, players will be able to collect materials for the Falcon in the redemption event for free. Players can also get more Companion Shards in the Shop or from the Royale Pass to get the Falcon, Falcon Avatar, Companion Food, and other items.
New Character (Coming Soon): Vehicle Engineer – Sara.
A new character is coming soon
Vehicle Engineer – Sara
Her ability, Vehicle Enhancement, reduces the damage taken by vehicles when she is driving or riding in a vehicle in EVO Modes.
Changed Arcade mode availability:
Mini-Zone will be taken down temporarily
Quick Match will be available at all times
Sniper Training will now be available on Mondays, Wednesdays, Fridays, Saturdays, and Sundays.
War mode will now be available on Tuesdays, Thursdays, Saturdays, and Sundays
PUBG Mobile Update 0.15.0
PUBG Mobile's new 0.15.0 update brings a lot of new features like new guns, new animation, new movements and much more to the leading mobile battle royale game.
It is available to download now for Android (1.76GB) and for iOS (1.98GB) but the size of downloads may vary as per devices.
It introduces a new Payload mode that includes new heavy weapons, a recall system, a helicopter, Vehicle Repair Pack, Super Weapon Crates, and Air Strikes it will be available soon for the users to play.
New features include ledge grab, fuel drums (explodes now on shooting)
A new Desert Eagle semi-automatic pistol, a new BDRM-2 Amphibious Armored Vehicle which replaces the Armored UAZ and can be found only using the Flare Gun.
For more details click here
PUBG Mobile Update 0.14.5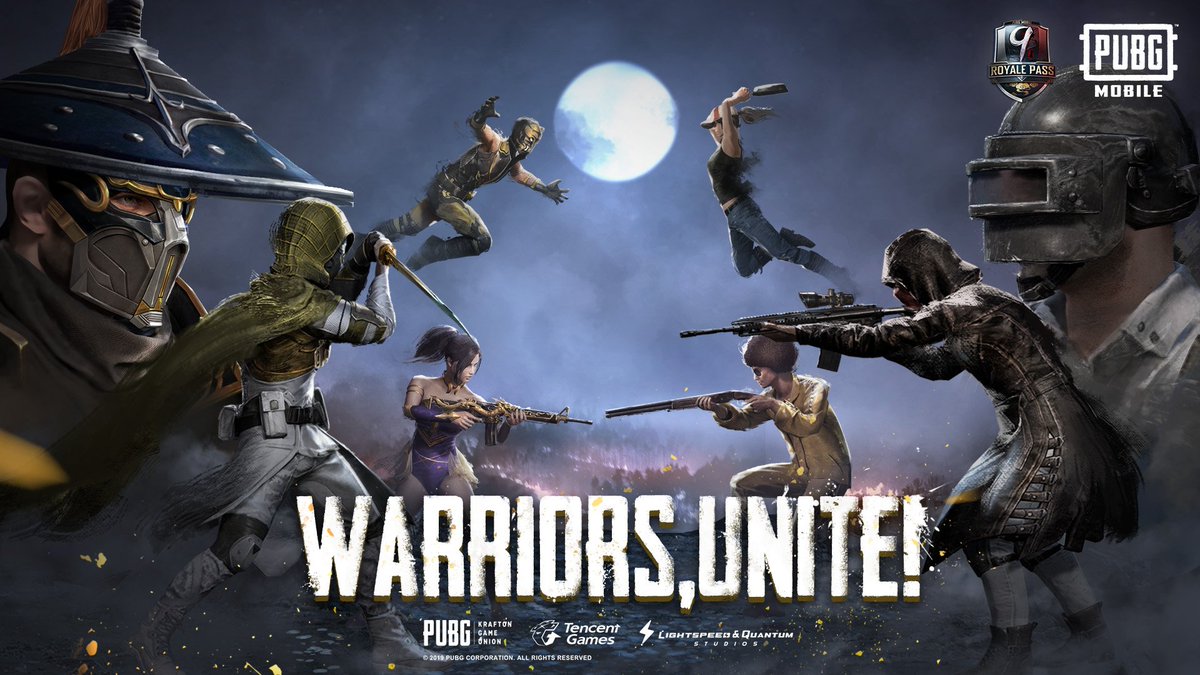 PUBG Mobile New 0.14.5 update has been released and rolling out for Android and iOS users with the new Royale Pass Season 9 called "Warriors Unite"
The new season adds new warrior-themed clothes, guns and much more it also adds new additional challenges, events, and rewards.
With new season it includes a chance to win a competition in the PUBG Mobile Club Open (PMCO) 2019 Fall Splits Global Finals as part of the Global Treasure Hunt Challenge, for a prize pool of 1 million.
Royale Pass Improvements:
1. Added a timer that shows a countdown to the new season.
2. Ask your friends for a pass until 7 days before the season starts.
3. Upgrade Royale Pass to get a customized sharing page.
4. Missions and Ranking pages redesigned.
Other Improvements:
1. Added Weekly Mission crate reminders.
2. Achievement chain progress now available.
3. The Lobby now does not show expired vehicles.
And More:
1. Emotes can now be dismantled.
2. Purchase UC to get great rewards and a discount on rare firearm finishes.
PUBG Mobile Update 0.14.0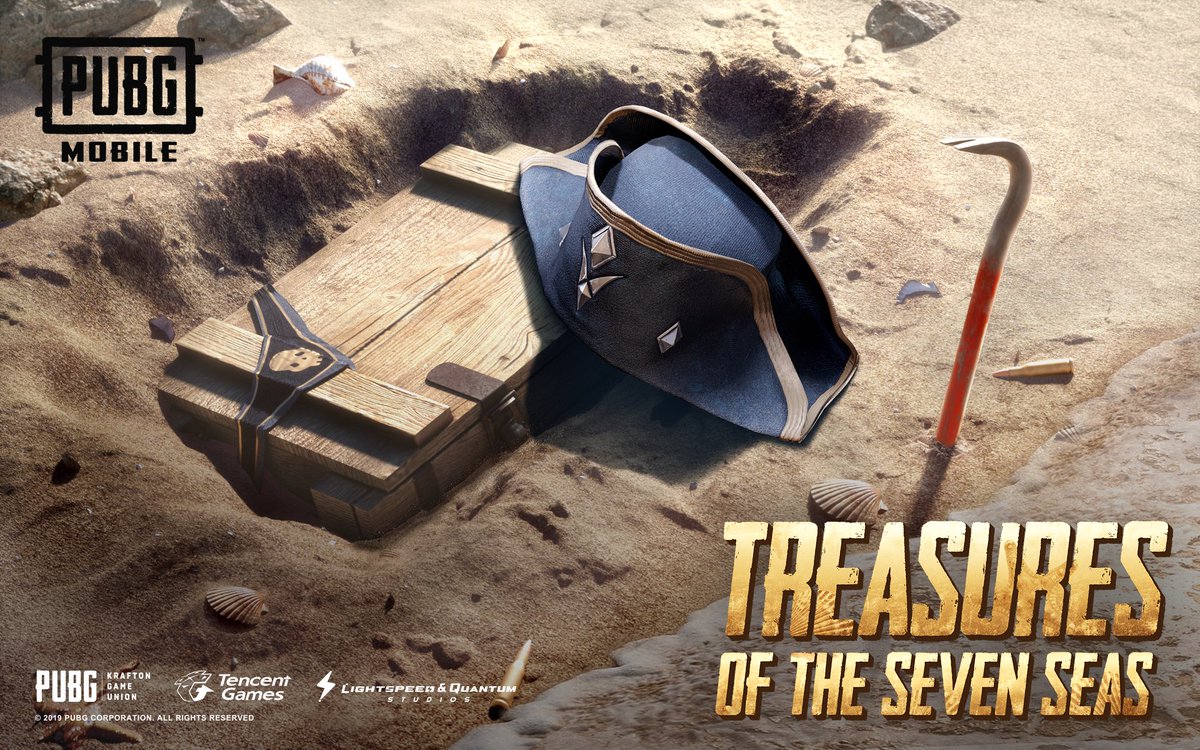 PUBG Mobile 0.14.0 update has been released on August 14 and it will bring some improvements and changes to the game.
New Feature Map: Infection Mode with Zombies
Redesigned Daily Missions
Changes in Character System
Adjusted Mode Selection UI
Level V, New Rewards and Outfits
Other Bug Fixes and Improvements
New Update 0.14.0 version size varies per devices but we noticed that Android size is 1.92GB and iOS size is 2.55GB.
PUBG Mobile Update 0.13.5
The new update 0.13.5 is available now for download and the new update might be releasing some new changes and the Season 8 to the most loved game on mobile devices.
How to update?
This new version update came in as an in-game update so to update you just have to open your game and a pop-up will appear to update the game.
New Update 0.13.5 version size varies per devices but we noticed that Android size is 181MB and iOS size is 1746MB.
What's new
1. New Weapon: PP-19
The game's 5th submachine gun. Fires 9mm ammunition. Drops in Erangel and Vikendi.
The PP-19 is a 9mm submachine gun with a detachable oversized magazine of 53 rounds, but it does not support magazine upgrades, so the capacity cannot be increased through attachments.
The weapon can be equipped with scopes, muzzle attachments and can be equipped with all scopes from the Red Dot Sight or the Holographic Sight to the 6x Scope, and all muzzle accessories available for submachine guns.
The PP-19 has a single shot damage value of 35 and a rate of fire similar to the UMP. Its default magazine size gives the advantage of a fully kitted weapon during the early game. These advantages come at the cost of a slightly weaker performance later in the match.
2. TPP-Team Deathmatch added to Room Mode.
3. iOS background download and update feature have been added. While downloading a new patch, iOS players can now send the app to the background (iOS shop will not be updated to reflect this).
4. New Rating Protection Cards, including Rating Protection Card (Duration) and Rating Protection Card (Uses), will take effect when ratings change. No rating will be deducted while the Card is active. Only applies to Crown tier or below.
5. The High Frame Rate option has been added to HDR mode for some high-end devices. Enable it for even better graphics at the cost of battery life. It can be configured in Settings – Graphics.
6. PMCO-themed events are coming in late July. After completing the missions, players can listen to the new PMCO song by Alan Walker, and get the PMCO Theme for the Main Menu.
Season Changes
1. Season system upgrades
The Season interface has been redesigned to be more intuitive.
The Classic Mode Results Screen has been adjusted. Rating and Tier changes are now more visible on the screen.
Season 8 rewards have been adjusted. The entire Season 8 outfit is now available upon reaching Gold tier. Diamond tier will feature Season-exclusive weapon finishes.
Tier rewards have been adjusted. Reach Crown or above to get a special team-joining effect and name tags. Reach Ace or above to get a permanent season title.
Rewards will now be automatically sent to players at the end of the season.
At the beginning of each season, players will learn about more detailed changes from the previous season.
The ranking system's algorithm has been tuned to slightly increase the weight of kill points, so kills will have a bigger impact on Tier.
Tier transfer rules have been revised. Starting from Season 8, Tiers below Gold are transferred as-is to the next season.
Tier Transfer messages has been polished. Rating reset information for all servers will be shown in one message, and tier transfer rules will be explained on the website (link will be included in the message).
Tier promotion reminder has been adjusted. Division promotions within a tier will not be shown in the lobby. Tier promotions will get a more extravagant reminder.
Tier icon visuals have been improved.
2. Royale Pass: New ocean-themed outfits and items await players in the Season 8 Royale Pass!
New friends request feature: on the Elite Pass purchase page, players can ask their friends for the Elite Pass or Elite Pass Plus.
To celebrate the first anniversary of the Royale Pass, some items from Season 2 and Season 3 are coming back. Players can get these rare items in Rank Rewards and Redemption Crates.
Display effects on the Rewards screen, Mission screen, EZ Mission License screen, and Ranking screen have been adjusted.
Bug Fixes
Fixed issue of reward notifications not appearing when there are Daily Missions in the reward for RP Missions.
Fixed issue of Crate Names described in EZ Mission License Perks 3 not matching the actual crate.
Fixed issue of players being erroneously ranked with incorrect ratings and tiers during the season change.
Fixed issue of players unable to move the avatars of their teammates in Team Deathmatch Mode.
Improvements
Items have been added to BP Shop for Prime subscribers, including Season 8 passes, mission cards and more.
The UC Purchase Bonus screen has been updated. Rewards have also been updated.
Title visual effects have been improved.
Select mythic outfits are now shown with weapons drawn.
Unified the Crate names and fine-tuned the visual effect of the navigation bar on the right side.
Bonus Challenge results are now calculated in real-time. The Middle East, Southeast Asia, Europe, and the United States regions will be starting soon.
Latest Events:
Team Up in Royale Pass Season 8 for the Summer Carnival! Treasures from the ocean await you!
PUBG MOBILE CLUB OPEN 2019 Global Finals, 7/26-7/28 – Join us in Berlin! Check-in in-game a certain number of times to collect PMCO-exclusive rewards!
PUBG MOBILE x BAPE collaboration with in-game BAPE products and retail merchandise!
Alan Walker x PUBG MOBILE's new collaboration single and mystery set! Check the event center to participate in the new song unlocking event.
To celebrate the first anniversary of Royale Pass, some Season 2 and Season 3 events will be back. Players can get these rare items in Rank Rewards and redeem crates!
Beta Version of PUBG Mobile was released earlier and iOS size is 2.38GB and Android size is 1.9GB
PUBG Mobile Update 0.13.0
The new update 0.13.0 will be available soon and the new update might be releasing some new changes to the most loved game on mobile devices.
The update will have a size of 1.98 GB for Android and 2.45 GB on iOS.
Godzilla Event
PUBG released a video announcing a partnership with the upcoming movie Godzilla 2: King of the Monsters and it is expected that the new update will bring a special event as a part of the crossover which includes a new loading screen, new avatars, and avatar frames, and a new event mode called Team Deathmatch.
The new mode allows two teams to play against each other with unlimited respawns. The team that has the maximum number of kills in what looks like a 9-10 minute match. There is also a special easter egg where you can actually see Godzilla lurking around in the water when you spawn in Erangel and you can also spot giant footprints on the map.
Vikendi Map
Vikendi Map will finally be out of beta and will now be totally downloadable, this means that there should be fewer glitches and bugs on the map and also a new secret cave has also been unlocked new Podvosto which gives you access to level 3 loot as well as rare guns like AWM and AUG A3.
There is no entrance, but if you use a snowmobile or a bike you can go right through to reach the loot. The map has also been updated to show tracks on snow, which is pretty neat.
Inventory Improvements
Players can now combine items in batches
Equipped items will be displayed on top
Duplicated new items will no longer be indicated by a red dot and the "new" tag
The Backpack and Helmet tabs have been moved to the Customization tab.
Kar98k Lab Skin
Kar98k is also available in the gun lab feature on PUBG Mobile, The Terror Fang Kar98k looks really impressive and will be offered in the gun lab with up to seven research that you can achieve by gathering paint and materials from crates and rewards. Currently, M416, M16A4 and the UZI that can be customized in the gun lab.
Other Improvements
Added control settings for FPP. Players can now have separate settings for TPP and FPP
Added MVP showcase system at the end of each match. All players will receive a default MVP pose. The top 3 players in Classic mode or the MVP of the winning squad in TDM will be featured
Added a dedicated button for climbing that can be enabled in the settings
When killed by friendly fire, now players can decide if the teammate should lose merit or not.
Added a Godzilla theme. Godzilla themed lobby background will be available together with many themed events and rewards after the update
Added new popularity gift and ranking reward. Every week, the top 100 players in the list may collect the title All-time Popularity or Recent Popularity
Added Charisma Ranking. The permanent outfits and firearm/vehicle finishes collected by a player will increase their Charisma
Added Charisma Ranking. The permanent outfits and firearm/vehicle finishes collected by a player will increase their Charisma
Arcade mode opening times have been adjusted. Mondays and Wednesdays: Sniper Training & War; Tuesdays and Thursdays: Mini-Zone & Quick Match; Fridays to Sundays: All Arcade modes are available. All times are in UTC
Protective items are now 25% more durable. Their effectiveness remains unchanged
Players can now bolt/reload a bolt action rifle while moving instead of completing the process while aiming down sights
Improved the animation in FPP when running while holding an SMG.
Vehicles now have improved feedback on explosions
Event Center now has improved interactions and better tutorials for the event missions
Crew Challenge Qualifying Round has been expanded. Now 6 qualifying matches will be held every day, up from 5. Each squad can participate up to 3 matches per day, up from 2. Each squad is allowed to participate a total of 18 qualifying matches, up from 12. And new items have been added to the Crew Shop
Players who have registered for Crew Challenge will now receive a notice 10 minutes before a match starts
Players can now collect all rewards from daily missions, progress missions and achievements all at once
Added 3 new Clan Insignias for Lv. 7, Lv. 9, and Lv. 10
Added a latency indicator to the main screen. Green, yellow, and red represents a good, average, or bad connection
The beta version of the new 0.13.0 update version is available to download for iOS and Android.
PUBG Mobile Update 0.12.5
Update size for iOS 263MB
The new update 0.12.5 is now available. This new update adds some new features to the game, a new machine gun pistol Skorpion which uses 9mm bullets and it will be available on all maps.
Some gameplay changes have been added to the EvoGround modes, now you can also add beard to the appearance of your player and in the new Royal Pass you will have new skins, emotes and outfits.
A new smoke trail effect is now present in PUBG Mobile. This effect leaves behind a trail of smoke while gliding or parachuting. A new pet system Has also been added to the game in which players will now be able to select pets as companions.
Some minor bug fixes and improvements has come to the game along with a dedicated Middle East server will be available in this new update.
PUBG Mobile Update 0.12.0
PUBG Mobile new update is 475 MB for Android and 2.6 GB for iOS (update size may vary as per devices).
New Feature: EvoZone
Replaces Event mode
Survive Till Dawn is now under this mode
More new modes will be added in the future
New EvoZone Mode: Darkest Night
Stay alive for one night while fighting zombies
All teams that are still alive at dawn will win
Changes to Survive Till Dawn:
Stun Grenades now also stun zombies
Added Liquid Nitrogen Grenades to freeze enemies and reduce their movement speed
Added jumping zombies and zombie dogs
Some zombies can now climb over low walls or onto roofs
Added RPG-7 and Jungle Style Magazines
Flamethrowers now deal more damage
M134 handling has been tuned
Players will gain affixes that grant certain buffs
Zombies now move slower after being hit by firearms
Added Survive Till Dawn quick chat messages to Default and Classic voice packs
Daily missions can now be completed in Survive Till Dawn
Players can now spectate matches that their friends, Crews or Clan members are currently in, and view others' information while spectating as well as adjust Spectator Mode privacy settings
Scope crosshair colours can now be changed in settings
Portable Closets can now be swapped while in a match
Spring Theme and Treasure is now available. Each draw guarantees a unique reward, and Sakura Dacia or Pink Rose Set is a guaranteed drop when drawing 10
Popularity has been added to Spaces. Players can now show their support by giving LIKEs to one another and become Partners with friends that have 400 Synergy or more. Partners will appear in each other's Spaces
Players can now add Shop items as Favorites and be notified when these items are on sale.
Duplicated time-limited items will now be stacked to only show 1 icon per item with a total amount of time remaining (maximum duration is 999 days)
New Achievements: Best Companion, Superstar, Winning Culture, Adventurer, Until Dawn, and A Step Too Far
Other Improvements
Automatic door-opening has been tuned
Dynamic weather odds have been tuned
More buildings have been added to Dino Park, Coal Mines, and Goroka in Vikendi.
Crew Challenge qualifying round has been expanded, and top 10 teams now get unique outfits
Emulator detection enhanced to stop emulator players from being matched with players on mobile devices
Friend invitations now show map and lag information
Quick Chat messages are now edited in Inventory
Quick Chat messages can now be displayed as a wheel to make sending messages faster and easier
Shadow effects can now be disabled to reduce resource consumption, heat and battery usage
Added a reminder on dismantling duplicated items for Silver
Previews are now available in some pages. Tap the reward icon to preview outfits
Gallery now only show items currently in stock at the Shop
Cloth Bandana (Leopard) with first purchase has ended. Rewards for first purchase of the season will be updated
RP Backpack now remember settings from the previous season
Mythic outfit emotes can now be heard by more players
Added haptic feedback to some buttons
Added animation for dropping empty magazines when reloading
Animation for throwing grenades while prone has been tuned
Animation added for opening/closing doors
Fixed a bug where hair was not displayed correctly when equipping certain headgear
Fixed a bug where Season 6 Pants caused graphic glitches in certain footgear
Fixed a bug where doors were not displayed properly
Fixed a bug where players may get stuck in buildings in certain areas